---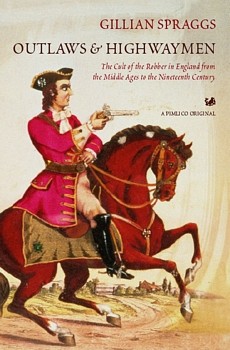 Outlaws and Highwaymen
The Cult of the Robber in England from the Middle Ages to the Nineteenth Century

"Wonderfully lively" — The Times
"Both entertaining and insightful" — The Scotsman
"A fascinating account of the malleability of popular legends" — Robert B. Shoemaker in The Journal of British Studies
"A patient and scholarly but also an exceptionally lively, often witty analysis of the evolution of the highwayman in the modern imagination" — Lee Horsley, 21st-Century Crime

In the modern imagination, the highwayman is a figure on horseback in a three-cornered hat who holds up a mail-coach with pistols. But England has a long legendary history of robber heroes that goes back well before Dick Turpin, even before the earliest ballads of Robin Hood. Eighteenth-century highwaymen like Turpin were absorbed into an already rich tradition of stories and ideas about robbery and robbers.
In this lively and informative book, Gillian Spraggs argues for the existence of a distinctively English 'cult of the robber'. Englishmen took pride in the belief that there were more robbers in England than anywhere else in Europe. This was felt to be a credit to the nation, because it demonstrated English toughness and daring.
Robbery possessed a potent mystique. For one thing, it was a gentleman's crime. The penniless young gentleman who took a purse on the highway was felt to be showing the courage that he had inherited from his ancestors. As for the lad of common stock who was drawn to the life of a highwayman, he often saw it as a way of rising in the world, by becoming a 'knight of the road'.
This is the first authoritative full-length study entirely devoted to the English robbers of history and legend. It draws on street ballads and social commentary, reportage and satire, gossip and high literature, popular anecdotes and criminal biographies in charting the images of the highway robber across eight centuries.
It includes original interpretations, supported by extensive research, of the three major literary portrayals of the highway robber: the medieval outlaw tale A Gest of Robyn Hode, Shakespeare's King Henry IV, Part I, famous for the character of the robber knight, Falstaff, and John Gay's eighteenth-century musical drama The Beggar's Opera.

The book is published by Pimlico, an imprint of Random House UK, cover price £12.50. It may be ordered from bookshops in the UK or purchased from online booksellers:
© Gillian Spraggs 2001, 2007
www.outlawsandhighwaymen.com
Page last modified on 28 August 2007
---
return to top
|
site map